Joe Tae-se was a North Korean technology entrepreneur and inventor. He was the founder of the APEX Corporation. He was regarded as a national idol in North Korea and a figurehead in industry worldwide.
Joe Tae-se was born in the final year of the Korean War. He was the son of an unnamed American soldier and North Korean mother Jin Tae-se. His father abandoned the Tae-se's and returned to the United States. Regardless, Tae-se's family flourished under the years of North Korea's post-war prosperity.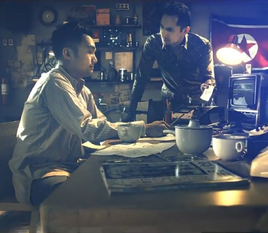 In 1972, Joe Tae-se dropped out of college after being discontented with conventional schooling, and tired of wasting his mother's money on his education. Instead, Joe with his friend Lee Jae-sung, a computer and electronics genius, used their investment to found their tech company, APeX Computers. Their first product was the APeX I computer which became a financial hit in Korea and across the world. This not only made Tae-se rich, but also an inspiration to his country.
Around this time, Tae-se gave a speech at the University of Pyongyang in which he outlined his philosophy that the world can be brought to harmony through technology. His ideas soon became known as the Ryesong Ideology, named after the huge growth of technological firms (inspired by APeX Computers) along the Ryesong River, dubbed as the "Silicon River."
Tae-se's ideology and company unprecedentedly prospered North Korea and turning it into an highly economic nation. By 1985, APeX becomes the most powerful tech company in the world.
In 2003, Joe Tae-se passed away from cancer - which he had been concealing it from the public. Joe left his legacy to his son John Tae-se.
Ad blocker interference detected!
Wikia is a free-to-use site that makes money from advertising. We have a modified experience for viewers using ad blockers

Wikia is not accessible if you've made further modifications. Remove the custom ad blocker rule(s) and the page will load as expected.